Head Shoulders Knees and Toes Noten für die Blockflöte. Das Lied ist ein sehr bekanntes Bewegungslied das für Kinder gedacht ist, lässt sich aber auch wunderbar mit Erwachsenen oder Senioren als Fitness Übung nutzen. Die Noten zu Head Shoulders Knees and Toes sind generell sehr einfach, man kann das Lied auch in verschiedene Parts aufteilen, so dass verschiedene Gruppen sich abwechseln. Es ist ein lustiger Song der zwischen durch immer wieder gut ankommt, kann aber auch wunderbar am Anfang einer Veranstaltung gespielt werden um das Publikum schon mal einzustimmen und ein wenig das Eis zu brechen.
Über das Lied
Das Lied besteht aus einem 2 taktigen Thema das 2x variiert wird und durch einem 2 taktigen Zwischenteil ergänzt wird. Die Melodie ist generell die gleich wie die des Folk Songs "There Is a Tavern in the Town" aus dem Buch Student Songs von William H. Hill. Der Ursprung des Liedes liegt wohl bei den Minenarbeitern in Cornwall, England und wurde 1891 erstmals aufgenommen. Weitere Aufnahmen zu dem Lied existieren von Rudy Vallée und seiner Band unter dem Titel "The Drunkard Song" und wurde im Jahr 1934 veröffentlicht.
Es existieren zwei Versionen, in der ersten Aufnahme musste Sänger Rudy Vallée aufgrund des Textes anfangen zu lachen und hat sich auch nicht wirklich wieder eingekriegt. Daher wurde eine weitere Version, diesmal ohne das Lachen, aufgenommen. Die Plattenfirma hat aber beide Versionen veröffentlicht. Größere Bekanntheit erhielt der Song dann schließlich in den 60er Jahren durch die Aufnahmen von Bing Crosby (1961) und Nat King Cole (1963).
Im allgemeinen wird das Lied mit dem Originaltext im mittelschnellen Tempo gespielt und gesungen, für britische Fernsehserie Ripper Street wurde eine Balladen Version aufgenommen, Interpretin hierbei ist Charlene McKenna.
Das Kinderlied "Heads Shoulders Knees and Toes" selbst ist etwas kürzer als die Originalvorlage und besteht nur aus 8 Takten die 3x wiederholt werden, wobei jede Wiederholung etwas schneller gespielt wird. Dabei fasst man sich mit den Händen an Kopf, Schultern, Knie und Zehen. Im schnellen Tempo kann das recht anstrengend werden.
Head Shoulders Knees and Toes Noten für Blockflöte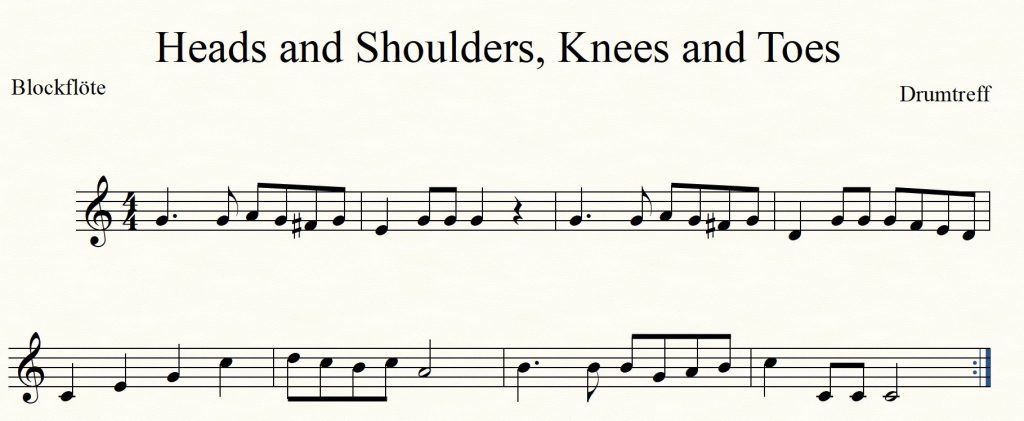 Liedtext zum Kinderlied "Head Shoulders Knees and Toes"
Head shoulders knees and toes,
Knees and toes.
Head shoulders knees and toes,
Knees and toes.
And eyes and, ears and, mouth and nose.
Head, shoulders, knees and toes,
Knees and toes.
Originaltext zur Originalmelodie "There is a Tavern in the Town"
There is a tavern in the town, in the town
And there my true love sits him down, sits him down,
And drinks his wine as merry as can be,
And never, never thinks of me.
Chorus: Fare thee well, for I must leave thee,
Do not let this parting grieve thee,
And remember that the best of friends
Must part, must part.
Adieu, adieu kind friends, adieu, adieu, adieu,
I can no longer stay with you, stay with you,
I will hang my harp on the weeping willow tree,
And may the world go well with thee.
He left me for a damsel dark, damsel dark,
Each Friday night they used to spark, used to spark,
And now my love who once was true to me
Takes this dark damsel on his knee.
And now I see him nevermore, nevermore;
He never knocks upon my door, on my door;
Oh, woe is me; he pinned a little note,
And these were all the words he wrote:
Oh, dig my grave both wide and deep, wide and deep;
Put tombstones at my head and feet, head and feet
And on my breast you may carve a turtle dove,
To signify I died of love
Head Shoulders Knees and Toes Noten in allen Dur-Tonarten
Download der Noten im PDF Format
Die Choreographie zu Head Shoulders Knees and Toes
Das Original "There is a Tavern in the Town"